HARFANG® 3D v3.0.0
Downloads
Windows 64-bit
Windows 32-bit
Ubuntu 64-bit
Release Notes
This major release mainly replaces Newton Dynamics with Bullet Dynamics for physics and improves interoperability between supported languages.
Engine
Add diffuse and specular intensity to lights.
Performance and filtering improvements of the AAA rendering pipeline.
Replace Newton Dynamics with Bullet 3 Dynamics, SceneBullet3Physics uses the same API as SceneNewtonPhysics.
Add SceneBullet3Physics.NodeWake to wake a sleeping body.
Implement restitution and friction in rigid bodies.
Provide support for value transfer between Lua VMs when calling Get/Set/Call on SceneLuaVM.
Implement full value transfer between Python and Lua VMs.
Implement Call on SceneLuaVM.
Light default specular value is now (1.0, 1.0, 1.0).
Support for specular color in core light models (point, spot, linear) in the PBR shader. This is not compliant with a strict definition of a PBR Pipeline, but this approach tends to be a consensus in the industry (Blender, Redshift, …) and is artist-friendly.
Add Joystick support (Joystick, JoystickState, ReadJoystick, GetJoystickNames, GetJoystickDeviceNames).
Improve OpenAsset and LoadResourceMeta performance.
Improve Vertices.End performance by removing systematic default validation.
Rename x_aspect_ratio parameter to fov_axis_is_horizontal in SceneSubmitToForwardRenderPipeline.
SetView2D and SetViewPerspective now takes x,y,w,h instead of w,h.
Fix redundant loads of texture meta JSON when loading materials.
Fix ImGui Enter/Return key distinction.
Fix broken linear texture filtering.
Fix GLFW window system not sending window signals and breaking IsWindowOpen as a consequence.
Fix spurious error message when opening asset with several asset folders registered.
Toolchain
New AssImp converter.
GLTF Importer: Add occlusion texture if no metal/roughness texture is declared in a source material.
FBX, GLTF importer: Fix on the importation of animations in some specific rotations situations.
Documentation
Quickstart page improvements.
Index class members in the search index.
Misc
Update STB Truetype.
Update STB Vorbis.
Update STB Image.
Update STB Image Write.
Update bgfx.
Update bimg.
Update tiny process.
Screenshots
The following screenshots were captured on a 2080GTX in 1080P running at 60FPS, GI is performed using screen space raytracing and does not require RTX capable hardware.
Sun Temple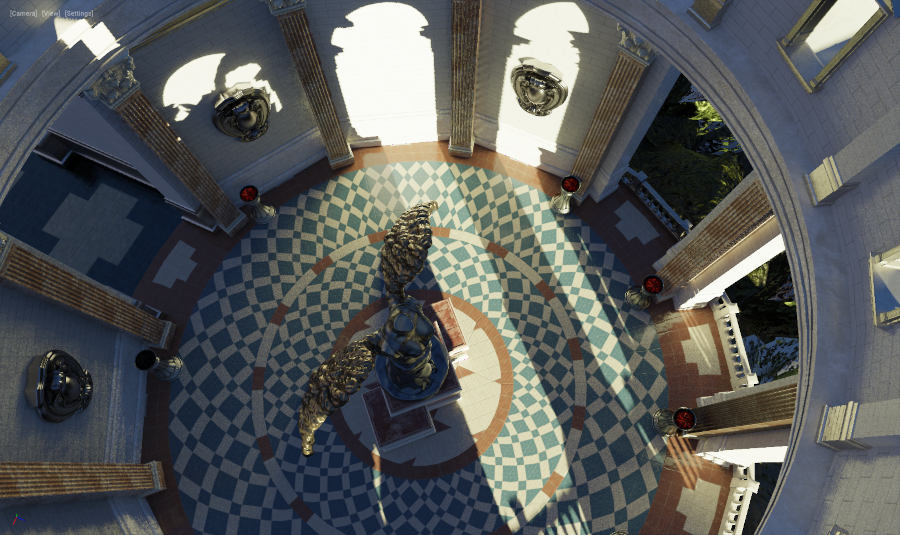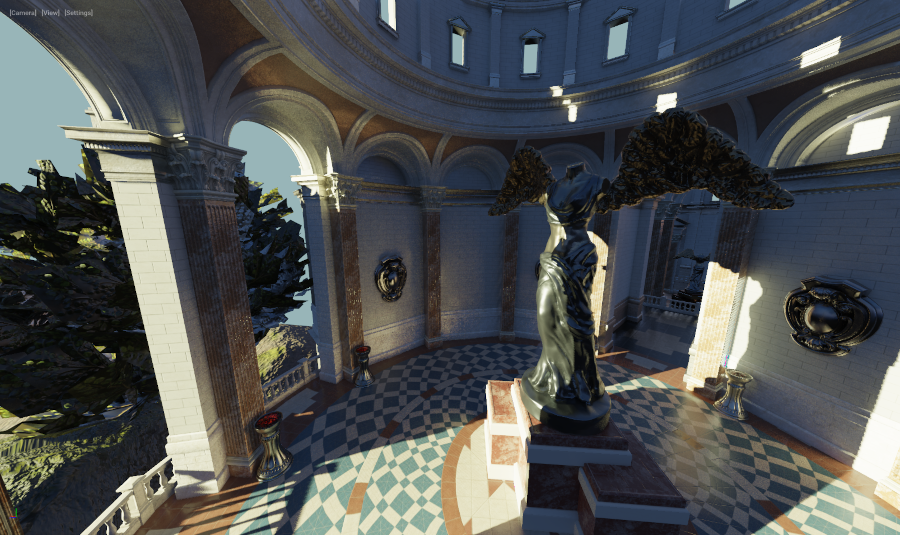 Cafe Exterior